I MADE THE FINAL!!
I was lucky enough to take part in The Great Pottery Throw Down 2021 on Channel 4.
What a privilege it was to be a part of such an inspirational TV show. I made friends for life and now call them my pottery family.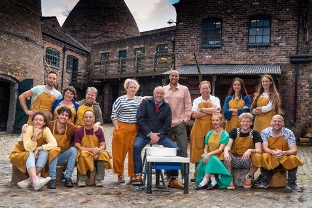 (photograph by Channel4/Love Productions)
What an experience I had; it was truly amazing!
I learnt so much, not only pushing myself each week to complete the brief and the spot challenges, but also about myself and what I can achieve. I have always said "if you want to give something a go, just do it, it doesn't matter about age or ability, just go for it" and that is exactly what I did each and ever week.
I have to say, my favorite week has to be week 7 when I won potter of the week with my Acoma pot. I had learnt so much by this point in the process and this week everything just seemed to come together for me.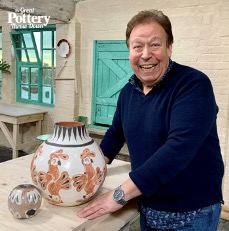 (photograph by Channel4/Love Productions)
One of the most challenging tasks through out the show was the semi-final week when we had to hand build a full-size working sink that was inspired by something important to us individually. For me, I chose to build a suitcase sink and pedestal that reflected my time travelling as a small boy on large ships.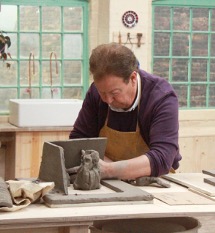 .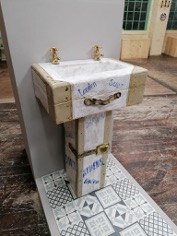 (photograph's by Channel4/Love Productions)
I have always had a love and passion for all things Art Deco, so the main make for the final show was right up my street. I was so greatful to have reached the final, and then to discover that Art Deco was in the brief was just amazing! The brief was to make a party set to consist of a punch bowl and six cups that all had to hang from bowl and then two decanters. It had to be bright and reflect the style of the potters of the 1920/30's. My make was inspired by Clarice Cliff, with her bright lines and images, and represented a sunset over Gladstone.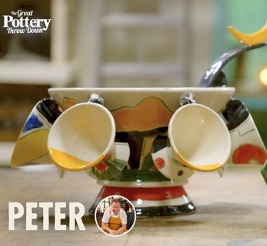 This experience was incredible and I would encourage anyone who is thinking of doing something new to follow your dreams - I have proven you are never too old to do what you love!
Here is me and my fellow finalists, Jodie Neale and Adam Johnson with judges Keith Brymer Jones, Richard Miller and Siobhan McSweeney.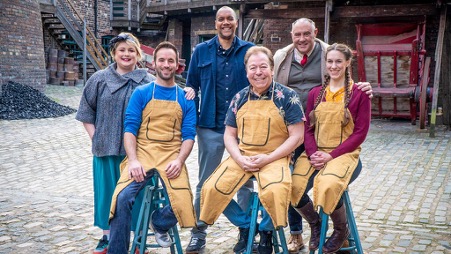 (photograph by Channel4/Love Productions)