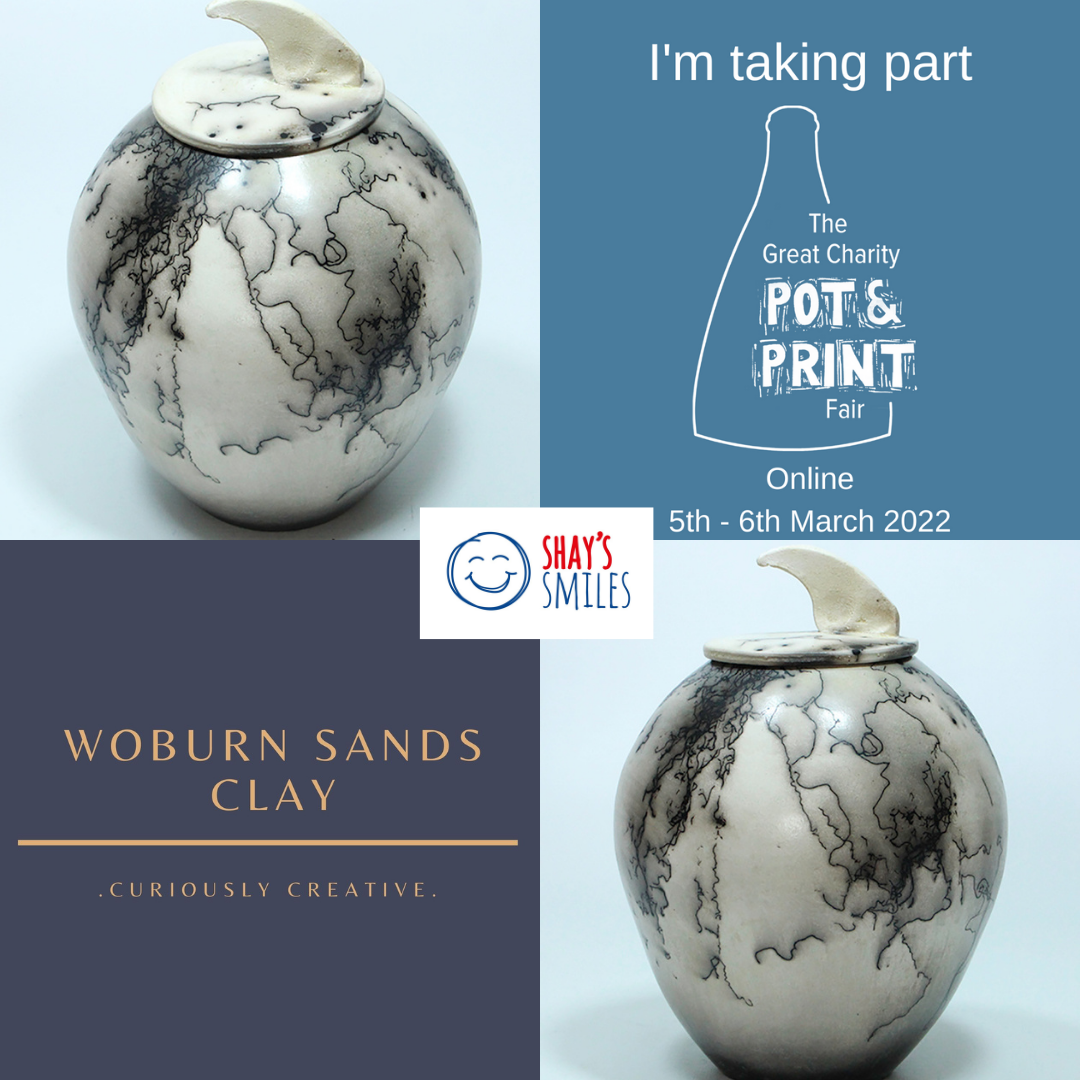 We are very proud to be raising funds for Shay's Smiles.
To enter our PRIZE DRAW please head to
https://www.justgiving.com/fundraising/woburn-sands-clay-charityprizedraw
As part of The Great Charity Pot and Print Fair 2022 I am
offering this piece of pottery to be won in a Prize Draw to raise funds for the incredible Shay's Smiles Charity.
Shay's Smiles is a local charity that was set up by the family of 13 year old Shay, who sadly passed away on 1st September 2020. Shay died less that two years after being diagnosed with a brain tumour (glioblastoma multiforme - GBM).
The charity's mission is to help other children diagnosed
with GBM and their families access specialist doctors and healthcare
facilities, as well as raise funding and lobbying for vital funds towards research to help further the desperate needs for a cure.
You can read more about Shay's story here:
https://www.braintumourresearch.org/stories/in-our-hearts/in-our-hearts-stories/shay-patel
To enter the prize draw you can donate to Shay's Smiles
Charity through this Just Giving page.
As a guide, I have suggested that every £3 donation will be
considered an entry and will place your name into the hat (so a £6 donation will be two entries, a £9 donation will be three entries and so on).
To comply with UK licensing and gambling laws this Prize
Draw can be entered for free by scanning the QR code below.
This Charity Prize Draw will close at 9pm on Wednesday 9th
March 2022.
The winner will be picked at random by myself on Friday 11th
March 2022 and will be announced on my Instagram @woburn_sands_clay
Any donations, big or small, will be gratefully received and
all donations must be placed without Gift Aid.
IMPORTANT: Please leave your contact details with your
donation, as anonymous donations cannot be entered into the hat.
Open to UK residents only (the prize can only be posted out
to a UK address)
IN ADDITION to this Charity Prize Draw, Woburn Sands Clay will donate 20% of any item purchased on our website between 9am on Saturday 5th March and 9pm Sunday 6th March 2022 to Shay's Smiles. Head over to www.woburnsandsclay.com between this time and place your orders! (we will announce the amount raised for Shay's Smiles on our Instagram on Friday 11th March 2022).
Thank you so much for your support!!